Top Local Professional Dog Training in Peoria County IL
Wilson's Dog Training is your trusted local source for top dog training in Peoria County IL. Call our head trainer Brian Wilson today at 309-316-7604 to schedule your services.
We cater our services to meet the needs of our clients and their pets. Do you need our trainer to provide lessons at your home? We can do that. Do you prefer bringing your dog for private lessons at our training facility? That's okay, too. Has your dog bitten someone or shown aggressive behavior? We can provide you with an aggressive dog consult. Are you wanting to travel but unsure where to get care for your pet while you're gone? We provide both boarding and training services and regular boarding. No matter what sort of dog obedience services you need, we can help you.
If you want to learn more about our rates, training, or anything else, contact us online. We'll respond promptly with the answers to your questions. You may find other options available. However, our dog training is led by a Certified Master and Animal Behavioral & Communication Specialist through the Academy of Canine Communications.
In-Home Dog Training in Peoria County IL
With our in-home dog training in Peoria County IL, you receive all the benefits of our board and train program brought to you. Brian Wilson will come to your home for dog obedience and behavior modification training from Monday through Friday. Plus, you're not required to be at home for the training. Brian focuses on working with your dog from Monday through Thursday. Then, he'll meet with you on Friday to teach you how to get your dog to respond to you with the training provided. To reinforce the training, you'll need to work with your dog on the weekends for the best results. This program comes with two options:
Two weeks of training
Four weeks of training
Private Dog Training
We can also host obedience lessons when you want private dog training in Peoria County IL. We can meet you at a local park in the Cuba area to save you some money. This works best if you're concerned your dog may have aggression issues or other behavioral problems in a group class session.
Group Dog Training
We also host weekly sessions each Saturday from April through October if you're interested in group dog training in Peoria County IL. The rate for this class is $15. That is a flat fee per dog. It's a great way to get training if you've got multiple dogs in your household.
Boarding and Dog Training
We provide you with plenty of options when it comes to boarding and dog training in Peoria County IL. Also, we can pick up and drop off your dog for an additional fee. However, we do charge additional mileage costs for anything beyond 15 miles from our home base in Cuba.
We will take your dog into our home for four weeks and teach them all the basic commands they need. You will be required to come once a week for an hour so we can teach you the commands and how to work with your dog once his/her training is complete.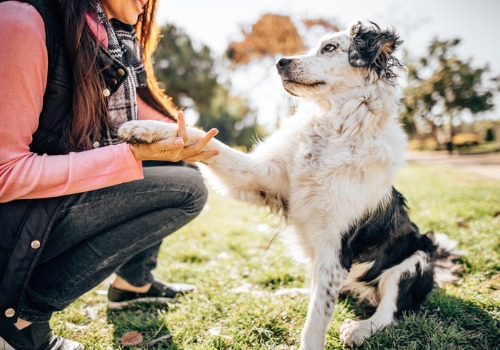 Contact Us for Dog Training in Peoria County IL
For the best results, count on Wilson's Dog Training for all your boarding and dog training in Peoria County IL. To reserve dates, you can use our online form to contact us about the services you need. We accept payment by cash, check, PayPal, debit, and credit cards. In addition, we can provide a payment plan through PayPal. Remember, we can cater services to you and your needs. So, let us know if there's a solution that we can customize for you by calling 309-316-7604.